Hey guys,
So those of you that have been around for a while may be aware of my love for Alice in Wonderland and anything related to it. So when I saw this gem and the sequel in The Works on the 3 for £5 deal I was all over it. Whilst this book didn't turn out as Alice-y as I expected it to, I still loved it and can't wait to read the next one. But I am getting ahead of myself, here have a read of the synopsis from GoodReads: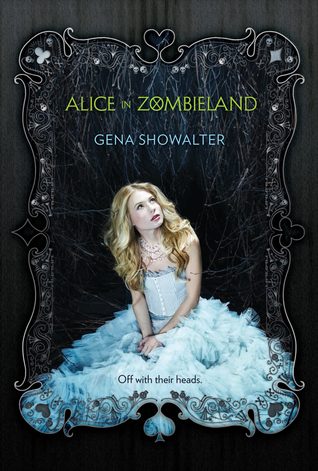 She won't rest until she's sent every walking corpse back to its grave. Forever.
Had anyone told Alice Bell that her entire life would change course between one heartbeat and the next, she would have laughed. From blissful to tragic, innocent to ruined? Please. But that's all it took. One heartbeat. A blink, a breath, a second, and everything she knew and loved was gone.
Her father was right. The monsters are real….
To avenge her family, Ali must learn to fight the undead. To survive, she must learn to trust the baddest of the bad boys, Cole Holland. But Cole has secrets of his own, and if Ali isn't careful, those secrets might just prove to be more dangerous than the zombies….
I wish I could go back and do a thousand things differently.
I'd tell my sister no.
I'd never beg my mother to talk to my dad.
I'd zip my lips and swallow those hateful words.
Or, barring all of that, I'd hug my sister, my mom and my dad one last time.
I'd tell them I love them.
I wish... Yeah, I wish
Doesn't that sound great? Yeah it does.
So the first thing I want to make very clear is this is pretty much a zombie story with a main character named Alice and a few wonderland
references
. It is not as the title and cover suggest an Alice in wonderland re-telling. But don't let that put you off! This book was not at all what I was expecting but it was amazing.
So you think Zombies, you think urgh zombie
apocalypse
I've read it all before right? Well think again, firstly this is a zombie story no
apocalypse
, secondly these are zombies like you've never seen them before. There's a very interesting lore, and there are interesting people who fight them with interesting
abilities
.
On top of that the characters in this book are just great. There is development, complexity and wit. I love the best friend Kat, lot's of great best
friend
banter there. I also like Cole, I liked his character as well as the way the teenager-y romance was dealt with. Secondary to the plot, not too mushy, and not 'omg i love you and we're going to be together
forever
' like most YA books. I also really really loved how her grandparents grill the boys she comes home with I thought that was
hilarious
and a great way of dealing with issues YA's never deal with.
As for pacing, both this and the sequel were very fast paced with lots of action. I flew through them, I think I read both books within 48 hours, and it only took me that long because I was busy in the daytime.
4-4.5/5